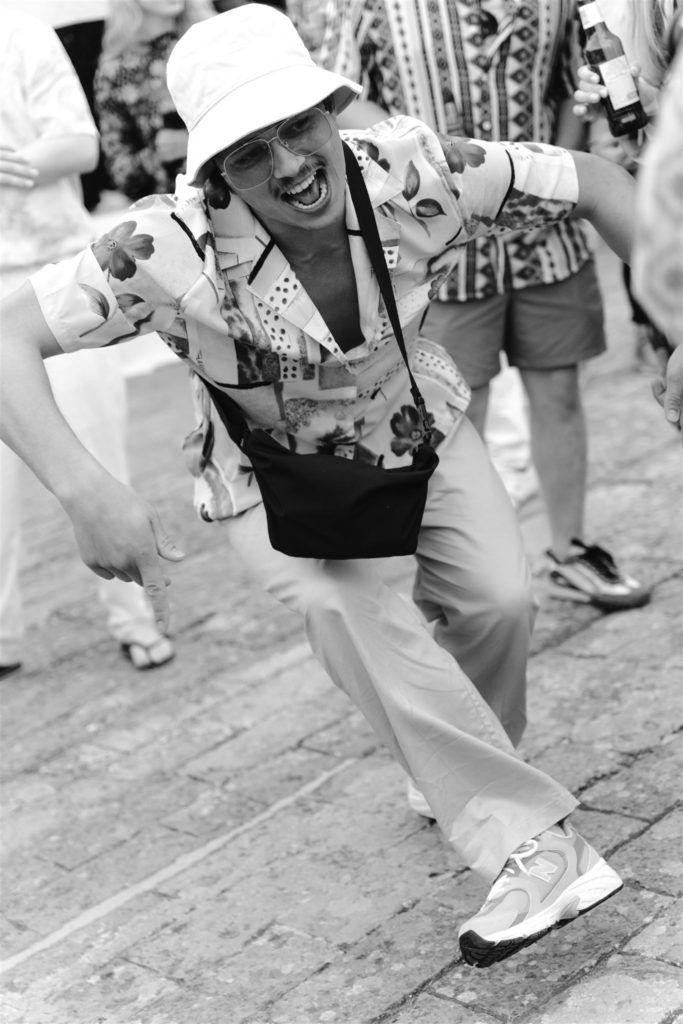 Our availability for 2024 is limited
Imagine putting together a 10,000-piece puzzle without the picture on the box. Creating the wedding films like we do is kind of like that. It can take up to weeks to finalize the puzzle.
For this reason we only accept 10 weddings per year. And since we only work with 10 couples per year, we are prioritizing working with those who are hosting events over multiple days.
We're available for travel worldwide. Multi-day wedding videography full package already at €7500.
Schedule a videocall with us
We couldn't be more excited that you're interested in having us tell your story!

Please take a moment to fill out the form below and we will be in touch as soon as possible.
We put as much information as possible on our website but check below if you still have questions, check if you find the answer below!
1. What is your style of wedding videography?
We specialize in tailor made, non-traditional, non-chronological captivating wedding films, who are nothing like your grandma's boring one of a kind wedding films. We love to include every emotion and event that characterize you and you wedding, from nerves to laughs and from vows to drunk dances. 
2. How many videographers will be present at our wedding?
We have a minimum of two videographers in our team to ensure that we capture all the key moments from multiple angles. This allows us to capture a comprehensive and dynamic representation of your wedding day. These two videographers are always included in the pricing.
3. Do you also offer wedding photography?
We only do video, no photo. And that's for a very good reason.
Photography and videography are complete different skill sets even though people who don't know much about would assume they are very similar.
Sometimes, couples are looking for vendors who offer both and there are videographers who offer those packages. Just know that they will either hire a photographer or if they do everything themselves the results will never be as good as when you hire a photographer and a videographer. They simply can't do both at the same time so at some point you will eiter miss photos of a moment or videos.
We have great relationships with amazingly talented photographers so if you need some inspiration, we're happy to help!
4. How do you work alongside photographers on the wedding day?
We understand the importance of a collaborative and harmonious relationship with photographers. We coordinate closely with them to ensure that we capture all the important moments without interfering with each others work. By maintaining open communication and mutual respect, we can create a seamless experience for both you and your photographer.
5. How soon will we receive our wedding film(s)?
We understand that you're excited to relive your wedding day through the film. Our turnaround time for delivering the final edited films is usually between 12 and 20 weeks. We strive to provide a balance between delivering your film promptly and ensuring that it receives the attention to detail it deserves during the editing process. On top of that our work builds up during the season so couples at the start of the season will usually receive their film a bit quicker compared to later in the season. It's in your best interest to give us some time so that we can achieve the maximum result for you! 
6. Can we request specific songs for our wedding film?
The short answer is no. So let us explain. When editing your wedding film, we mix multiple (licensed) songs to ensure that we create the perfect blend of what you see and hear. Letting you choose the song beforehand without knowing what visual story we are creating would be like asking a blindfolded toddler to finish a Picasso painting with finger paint. 
You see, our goal is to craft a wedding film that captures the emotions, the energy, and the magic of your special day. We carefully select songs that complement the flow and ambiance of each moment, enhancing the visuals and creating an immersive experience. Picking the right songs that fit you and your wedding's vibe is actually a really big part of our work. It can take up multiple days until we find the perfect ones! 
7. Do you offer drone videography?
Absolutely! We are both licensed drone pilots. Aerial shots can provide a stunning perspective and capture the grandeur of your wedding venue and its surroundings. However, please note that the availability of drone videography is subject to local regulations and weather conditions. For this reason we don't charge you extra for drone footage and have included this in our base service. 
8. Can we request specific shots or moments to be captured?
Absolutely! We value your input and want to ensure that your wedding film reflects your vision. During our pre-wedding consultation we encourage you to share any specific shots, moments, or details that are particularly meaningful to you. We'll work closely with you to understand your priorities and incorporate them into our filming plan.
9. Why can't I find pricing or packages on your website?
We believe in fostering open and honest communication with our clients. Rather than providing pre-packaged options that may not meet your specific needs, we prefer to have a direct conversation to fully understand your vision, requirements, and budget.
This way, we can collaboratively design a customized package that aligns perfectly with your expectations and captures the essence of your wedding day.
Weddings come in all shapes and sizes, ranging from intimate single-day celebrations to extravagant weekend affairs or even multiple-day events in exotic destinations. We want to ensure that our services align perfectly with the specific requirements of your wedding day, capturing every cherished moment and detail. By customizing our offerings, we can provide you with the best possible experience and deliver a wedding film that truly reflects your love story.
10. What investment should we consider?
Think of wedding films like cars—they come in all kinds of forms, and there's a perfect wedding videographer for every budget.
Imagine you're in the market for a car. If you have a limited budget, you might go for a reliable, second-hand small car like a Toyota Aygo. It'll get you from point A to point B and serve its purpose beautifully. But if you have a higher budget, you might have your sights set on something more luxurious, like a Ferrari—a sleek, high-performance machine that turns heads and creates a thrilling experience.
Now, here's where the analogy comes into play. As wedding videographers, we aim to be the Ferraris of the industry. We pour our creativity, expertise, and passion into crafting exceptional wedding films that capture the essence of your special day. We invest in top-notch equipment, stay up-to-date with the latest trends, and bring our artistic flair to every project.
However, just like you can't expect a Ferrari with the budget of a second-hand Toyota Aygo, it's important to understand that different wedding videographers offer different levels of service and expertise at various price points. While we strive to provide outstanding quality and value, our pricing reflects the commitment and dedication we put into each project.
But fear not! We're here to work with you and find the perfect fit for your needs and budget. We offer a range of options and customization to ensure that you receive a wedding film that exceeds your expectations. Whether you're looking for a compact, streamlined package or the full Ferrari experience with all the bells and whistles, we're ready to collaborate and create something truly extraordinary.
So, let us know what you want, and we'll design a personalized proposal that matches your vision and budget. We're excited to be your wedding videographers and embark on this journey together, capturing your love story in a way that will make you feel like you're driving a Ferrari down memory lane. Let's make your wedding film an unforgettable ride!
11. Do you film destination weddings only?
No, we love to divide our time about 50-50 between destination weddings and local weddings. We've had the most fun weekend weddings, which were local, so it's not always only about "filming in a beautiful destination". It's more about you and us being the perfect match and having a great vibe!
We do prioritize multi-day weddings over single day weddings, simply because we only take on max. 10 weddings per year. But if you have a single day wedding, just fill out the contact form and we wi'll be in touch with you soon!