Did you feel like giving up when you realized that all wedding videos looked the same? 
So did we! That's why we created our own style and continue to challenge ourselves with each wedding video we make.
We believe that your wedding film should truly reflect who you are as a couple and portray the real vibe of your wedding. 
We won't show you a fake, over-the-top, and romanticized version of your big day or some cheesy love story that you've seen a million times before.
No, we are all about creating wedding films that include every moment that contributes to your story and makes your wedding uniquely you. 
This includes the romance but also the party and drunk dances when all the nerves have finally disappeared!
... to make your wedding event a total blast from start to finish. We know how to blend in seamlessly while still capturing all the spontaneous moments on camera.

Our zoom lenses help us capture all those priceless moments without getting in the way, though during the party, we'll be boogying right alongside you and your guests to capture all the wild and wacky moves.

We're always game for mingling with your guests so that everyone feels comfortable with us being there and has the best experience they can get.
We met each other on Queen's Day (nowadays King's Day) in 2012. It wasn't love at first sight, but fate brought us back together at a festival a couple of weeks later. 
The rain started pouring, and the organization was throwing free ponchos out. When Kay picked one up, she happened to be right in front of Timo. We fled into a gay bar to take shelter from the storm and hit it off.
In 2015, we went on our first world trip and had the best time ever. We lived in the tiniest van for almost a year in Australia and still didn't get sick of each other. This is how we knew that we would stick together.
At the time, we both had very different jobs from videography. Timo was a social worker in a clinic for children suffering from addiction and mental problems, and Kay was an X-ray technician (radiographer) in a hospital. 
We were both unhappy in our jobs, and the idea of starting our own business grew on us. But, what kind of business?
Due to filming our travel adventures, Timo had developed a deep passion for video editing and spent every spare minute learning new skills and creating videos. 
But not once did it click that this could be turned into a business. He was editing videos purely for fun. By coincidence, we ended up filming a wedding together, and that's when we instantly knew: this is it! 
When we returned from our 6-month stay in Bali, we took the bull by the horns and stepped into our business full-time.
One of the things we love while traveling is meeting new people and hearing their stories. And now, with every wedding, we have that same feeling.
It's so special to step into a couple's life, hear their complete life story, and meet their family and friends who are all a part of it.
This is one of the things that drives us to create something truly special with every wedding we capture: a wedding film that will be of great value for many years to come.
Timo was born in Austria and lived there for the first 4 years of  his life until his family moved back to the Netherlands.
He's super sporty guy that's always looking for a new, preferably thrill-seeking hobby, whether it's surfing, onewheeling, snowboarding or skating. 
He's all about the adrenaline rush and the one that will happily jump from a plane!
On the other side, Kay sometimes calls Timo "grandpa" (jokingly) when he's sitting in his old man chair early in the morning, drinking a cup of coffee, watching the trees or reading a book. 
When he stands up, claps and rubs his hands as an indicator that he's ready to go do something.  Or when he puts on his (not so pretty) hiking shoes for a solo morning walk through our city. He just gets away with it all because it's too damn cute!
Timo is also the genius creative brain in our business. The way he connects the dots between audio and video fragments, while telling a story and matching the background music, is just mind-baffling. 
He's socially a little bit introverted (definitely not shy though) because he can be on his creative cloud, thinking about what scene to capture next. 
However, if you ask him to do his signature twerk move he will be the life of the dance floor!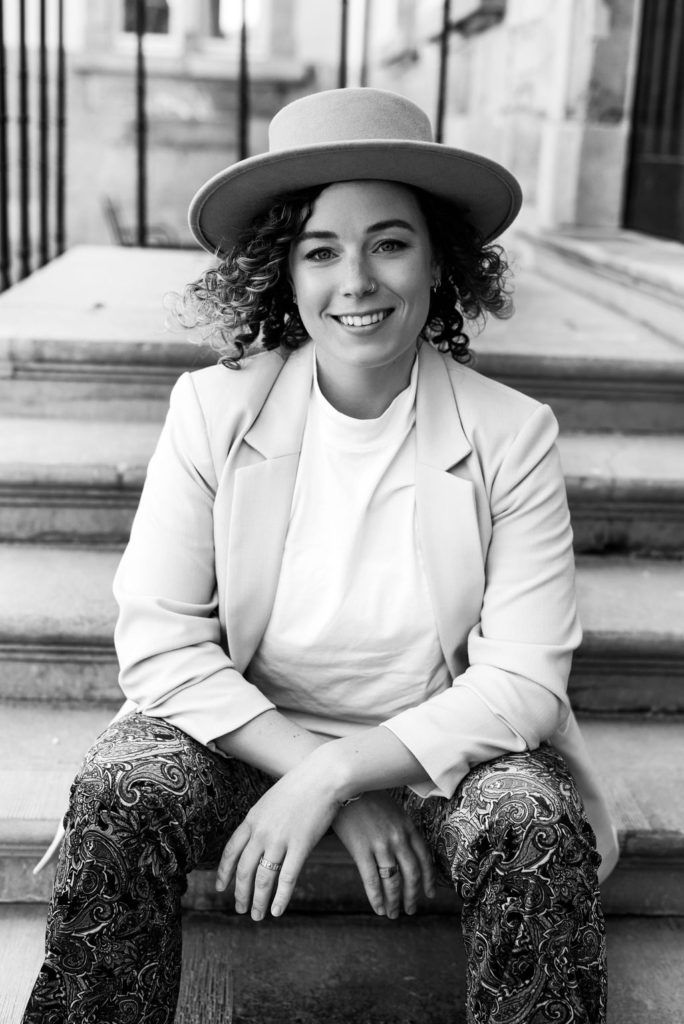 Kay was born in the Netherlands and has spent most of her kid-years in a gymnasium doing backflips and somersalts.
She wants to pet and cuddle every single dog, is a great chef in the kitchen (even though she doesn't always like to cook) and she's banned from buying any more hats as they look great but she'll never wear them.
Kay doesn't edit videos, but she does film at your wedding and manages all that comes with running a business.
From finances to client contact to managing the website. Anything to let Timo focus on the creation of amazing wedding films.
Kay is very sociable and is not shy to step into a crowd and chat with everyone. She has a great sense of empathy and is always there to help out even if it's not in her job description.
Where Timo usually is the wise man with consciousness, Kay is the one with a very flexible spine that has a hard time saying no to fun things, and the one who loves to be the last one on the dance floor.
Kay loves to dress up, so themed parties are her favorite thing in the world. It's just something about stepping into an alter ego and having the time of your life. Add-in an ABBA or Pink song and there's no turning back.